Pregnancy Week 38 Information – 38 Weeks Pregnant
At pregnancy week 38, your baby is nearing full term and complete maturity. Now that your baby is low in your abdomen, reducing your upper abdominal pressure, you may be breathing a little easier.
Congratulations! You are about to go into your 9th month. You're probably wondering what to expect in terms of your pregnancy after you reach your 38th week.
38 Weeks Pregnant: Common Signs and Symptoms
Your mucus plug might be detaching this week if it hasn't detached already.
Your baby has inched further down in your pelvis. It is compressing your bladder, making urination a frequent chore.
Your baby might also be pressing on various nerves, causing pain and numbness in your legs, buttocks, and back.
At 38 weeks pregnant, because the baby's head is so low, walking can be unbearable.
38 Weeks Pregnant – Baby's Development
At pregnancy week 38, your baby's iris is likely a dark blue-gray. It may be that color for up to a year after birth.
The baby's skin does not yet have its final color.
The baby's lungs are partially developed and still maturing at this point. The baby weighs 6 to 7 pounds and is 17 to 20 inches long.
The baby has dropped into your pelvis and has more time to relax. If you feel an odd protrusion in your abdomen, your little one is probably enjoying the extra space and stretching its legs.
38 Weeks Pregnant – Self-Care Tips
You are probably battling anxiety about your unborn baby. This is perfectly normal; your nesting instinct is evident this week.
Start preparing for your baby's arrival by buying baby things.
If you do not want to breastfeed all the time, now is the time to buy a baby bottle and formula bottle.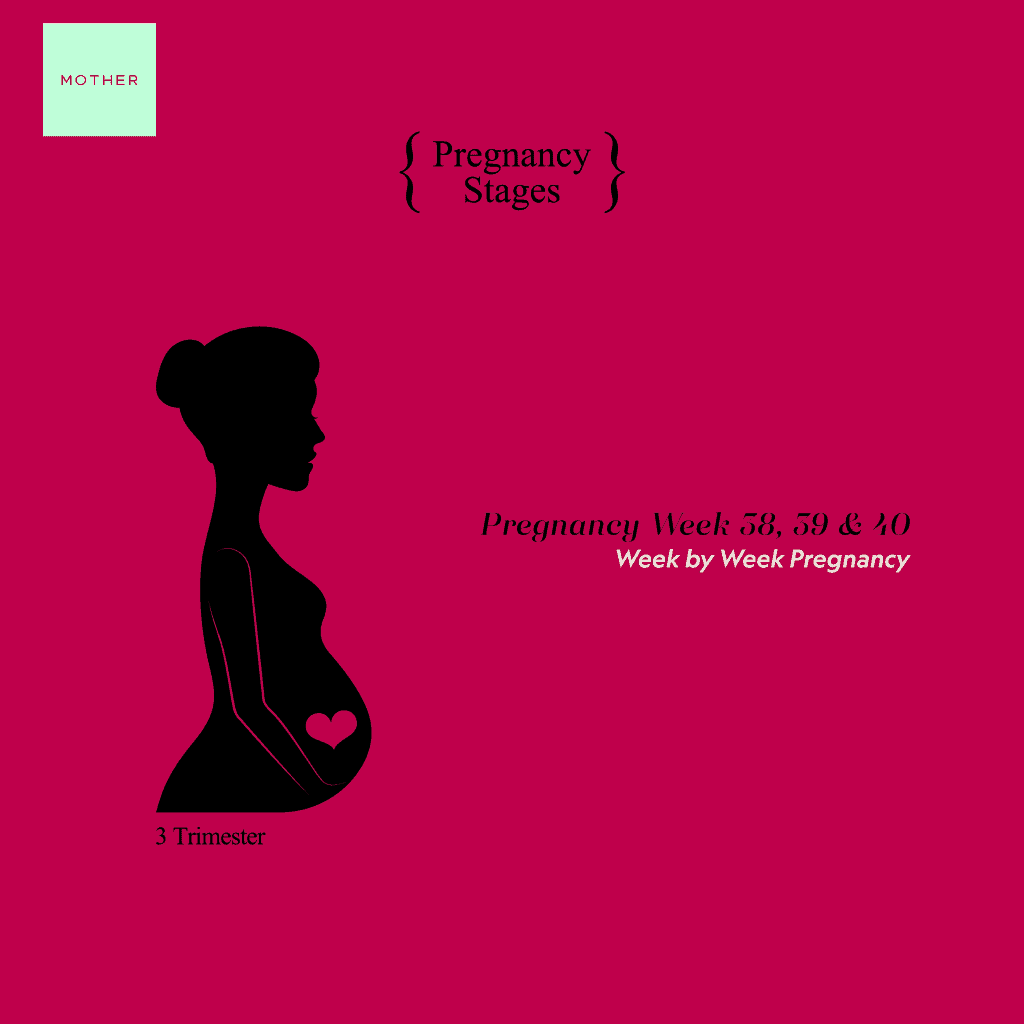 Pregnancy Week 39
39 Weeks Pregnant: Common Signs and Symptoms
At pregnancy week 39, your baby is situated low in your pelvis and gradually moving closer to your cervix. Your cervix is softening and thinning out, a process called effacement.
Effacement is due to an increase in prostaglandins, hormones that help ready your cervix for delivery. In some women, the opening of the cervix happens slowly and steadily over this week.
39 Weeks Pregnant – Baby's Development
At 39 weeks pregnant, your baby's organs are fully developed and can function normally outside the womb. This time is critical for your baby to position himself properly for labor.
The fat layer under the baby's skin is still maturing, and the baby is beginning to form new skin cells to replace old ones.
Your body, in turn, is busy supplying your baby with antibodies through the placenta. They will help boost his immune system during the next 6 to 12 months of life.
39 Weeks Pregnant – Self-care tips
Walking around encourages the baby to slide further down into your pelvis. This puts pressure on your cervix, which in turn prompts dilation.
Stimulating your nipples spurs the release of oxytocin, which can stimulate contractions. Massage your breasts and apply warm compresses to them. Use a breast pump.
Engage in sexual intercourse with your partner.
Apply evening primrose oil, which contains linoleic acid and stimulates the production of prostaglandins.
Pregnancy Week 40
40 Weeks Pregnant: Common Signs and Symptoms
At pregnancy week 40, you are counting the days until you can meet your little one. About 30 percent of all pregnancies last longer than 40 weeks.
There is no guarantee about the timing of when your water will break. This happens when the membranes of the amniotic sac rupture. They have been surrounding your baby for the last 9 months. Only about 15 percent of women experience rupture of the membranes before labor begins.
If you are worried that your water might break when you are out in public, remember that it's likely to come out as a slow leak, trickle, or slight gush.
The size of your pelvis is a factor in childbirth. No matter what size your frame is, whether large, petite, or average, it's the size of your pelvis that matters in birthing your child.
Your vagina stretches during childbirth and then tightens up again after the event. What a marvelous natural thing to do.
Your baby instinctively knows what to do when molding his still-pliable head to fit through that tight vagina, so have no fear for him concerning labor and childbirth.
Braxton Hicks contractions: These contractions usually get stronger during the last days of pregnancy. If they increase in frequency or subside when you walk around or change position, they are practice contractions. Consider them a way of practicing for labor.
Changes in fetal activity: During this period, your baby's movements slow down, but you can still count 10 flutters, wiggles, or rolls an hour.
Cervical dilation or effacement: By this time, your cervix is already dilating and will continue to do so through early and active labor.
Diarrhea: Having loose bowel movements might be a sign that labor is near.
Pelvic pain: Because your baby has been dropping, your pelvis feels uncomfortable. Your little one's head has bumped into your hips and bladder. Try massaging those places.
Leg cramps: If you have leg cramps, gently flex your ankles and toes back toward your shins to help ease the pain.
Insomnia: You become sleepless and restless this week as signs of impending labor begin to catch up with you. Ask your partner to give you a relaxing massage.
40 Weeks Pregnant – Baby's development
Your baby weighs 6 to 7 pounds and is about 19 to 20 inches long.
Your baby has shed the vernix, and his skin may be getting dry in spots.
Your baby's senses are fully developed, and you can talk to him.
40 Weeks Pregnant – Self-care tips
Consider acupuncture for pain relief (it was introduced by the Chinese long ago).
Talk to your doctor about induced labor.
Take a warm bath in a shower or tub.
At 40 weeks pregnant, do pregnancy yoga or walk briskly.
Shave safely.
Stay relaxed.
Pregnancy Week Guides & Information:
---
Medical Disclaimer
The information contained in this post is for general information purposes only.
Pregnancy Week 38, 39 & 40 - Week By Week Pregnancy is not intended to be a substitute for professional medical advice, diagnosis, or treatment. Always seek the advice of your physician or another qualified health provider with any questions you may have regarding a medical condition.